Feb 10th -- Feb17th
An interesting week. Did pretty good in school with a couple of presentations, plus I am personally sparked. Interesting.....butterflies.
Feb 3rd -- Feb 10th
busy busy with school! I have not had time for anything!! However, during the weekend we had a CISA trip to Quebec city. It was darn cold!! Wow, As Mohammed would say standing in the freezing cold in front of an ice statue: "What the fuck are we doing here anyways?"
Jan 28th -- Feb 3rd
Well, this week was a bit hectic. I had a couple of assignments that my procrastinating tendency left for last minute and I was running around trying to hand them in on time. Work was actually quite busy and on wednesday I missed my step class because I spent hours with an everything but helpful "Bell" representative on the phone trying to fix my internet! I have been working on a photo-shop project for which you can see the first draft below, and that has kept me entertained. Today, Sunday, after a long group meeting and a lot of snow falling outside, I am exhausted and going to bed very soon. We'll see what next week brings! ***Melisa***
This is the first draft of my project. Can you see me somewhere there?? I am not narcisist or anything but that clown face went perfectly there!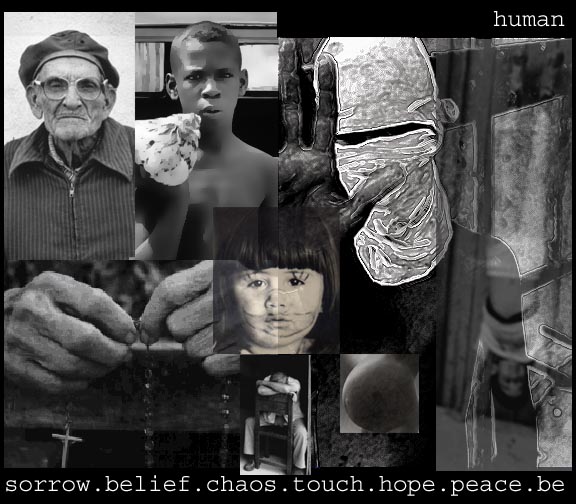 March 27th
Well, the "what's up with me" section didn't really work. I'm not very good at keeping it up to date, however, I will keep it and put things up every time I feel like it. Anyways, I have been quite busy with school lately but I love what I do so it doesn't matter. Benoit and I won an award for "Outstanding contribution to student life" in Concordia and we'll have the ceremony on April 5th. CISA is doing great and my plans to go to china this summer are still up. I just have to get 1500 freaking canadian dollars for the flight ticket! Here's a more "mature" draft of my photoshop project which is a poster against war; any feedback is deeply appreciated. Ok people, that's all for now. Talk to you soon, MELISA :)
APRIL 5th
I am happy to share with you the fact that Concordia University made me one of the four undergraduate students who receive an award for "Outstanding Contribution to student Life" anually! The ceremony was on friday and my friend and partner Benoit and I received the award for our work with
CISA
! There is about one week left of school and then there is just a long and fun summer!